Posted by Iludium Phosdex on Wednesday, May 23, 2012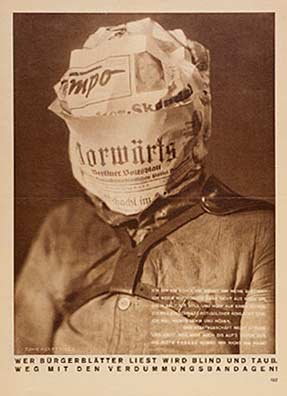 16h37 UTC; WEDNESDAY, 23 MAY 2012:
Perhaps some fresh John Heartfield (German; 1891-1968) is in further order to lead this post off: Featured today is a 1930 photomontage whose title translates from the German as "Whoever reads bourgeois newspapers becomes blind and deaf. Get rid of these stupifying bandages!" Which, perhaps, could be said to apply equally to such who depend too heavily upon Fox News Channel, Fox Business and conservative talkback radio for their prolefeed requirements--most such tending to be from an overzealously race-conscious sort of poor white "group area" where poverty, fecundity and ignorance are held up as "healthy" and "virtuous."

Which, in itself, calls to mind the slogan of The Colonel, a Canadian pulp men's humour magazine published during World War II as took advantage of wartime restrictions north of the 49th on the import unto Canada of "non-essential materials" such as pulp magazines, largely to protect wartime balance-of-payments accounts: "Don't read the headlines, read The Colonel--sure cure for war nerves." (Never mind that much of its content would nowadays be considered sexist, chauvinist and otherwise Politically Incorrect.) Could the same, perhaps, be said to be worth applying to Teh Greater Blogospheerz, especially with blogs such as this one as approach the news with a touch of snark and insight?


*************
In any case, there's plenty more worth dissecting where this comes from; hence, let's proceed:

So much for the hype as surrounded Facebook's glorious IPO at $38/share Friday, closing just yesterday at $31: It's emerged that there could be a Mass Joinder Lawsuit within measurable distance calling out NASDAQ for technical issues as prevented due and timely execution of share orders for Facebook when it began trading thereon Friday; what's more, Morgan Stanley, one of the share issue's major underwriters, had serious questions as to whether Facebook's exercise could really be viable to the point of willfully misleading intending shareholders before proceeding further.

Is it just me, or can't the "racially aware," in their Luscious Glory of seeking to emulate apartheid South Africa in its own Luscious Glory of White Afrikaner Power and Privilege excused as a Mission From God, wait for the provocation of full-on RAHOWA in its own Luscious Glory of sadisto debauchery?
If you thought Glenn Beck's gone below the "watch-and-ward" radar after he left Fox News in a cloud of "betrayal" (or so his drookies want it viewed) last summer--think again, suckers. (Which ought be all the more reason for continued que vive on Beck's prolefeed misadventures, even if it's now confined to a paywall-based online TV channel and some 300 radio stations in mostly poor-white-dominant "group areas.")
Why you should approach economic charts published on conservative or "Tea Party"-leaning prolefeed blogs with more than healthy skepticism ... as in applying doublethink to the claims and representations thus implied.
Also worth approaching with more than healthy skepticism: Websites promoting supposed "work-from-home" and "work online" schemes targeting the vulnerable and others needing employment, yet lacking in proper job and career skills or otherwise unable to find work in the community due to external circumstances, using URL's suggesting that such may be websites for "major nightly news shows" of a low or otherwise disreputable sort (and having the look and feel therefor); the Federal Trade Commission itself has disapproved of the technique vis-a-vis "work online" schemes (including affiliate programmes) and acai-berry-based weight loss products to the extent of shutting down several such disguised websites or weblogs.

Ask yourself which is the more virtuous of Indecision 2012 prolefeed tactics: Such proposed by Romney-affiliated SuperPAC's with misleadingly patriotic-sounding names and stylees seeking to link President Obama with the Rev. Jeremiah Wright's brand of theology (which, to the Christian Right Zealot and True Believer, isn't the Pure Saving Gospel of Jesus Christ as Will Reclaim Our Dear Lovely Nation from Itself) ... or President Obama's reelection campaign taking issue with Mitt Romney's tenure at Bain Capital Partners for such acts, deeds and exploits as closed factories, destroyed communities thus dependent and reduced many millions of once-proud workers to humbled circumstances as can be easily used by weird and unwholesome elements?

Tell me this isn't trivialising the Nazi regime and its corporatist ideology and articles of faith excusing as reinforcements anti-Semitism, xenophobic hypernationalism, overzealous militarism based solely upon selfish nationalist arrogance and the Luscious Glory of a "master race" as will reclaim past glory and honour By Any Means Necessary. Especially by one who has tacitly acknowledged from his very lips in past that "we need to reduce the size of government to the point where we can then drown it in the bathtub" (hoping, though not openly, that Our Dear Lovely Nation, in the Primitive Christian's Luscious Glory of sackcloth and ashes, will then play the Andrea Yates card of wholesale weeping and wailing and bawling and boohoohooing unto Bog and His Holy Angels, Archangels and Saints in Their Mercy Upon Our Dear Lovely Nation Having Been Demonically-Possessed, all that cal....)
And where exactly is it written that only Main Street can rescue itself based on a "careful and conscious" programme of "people-centred" Reddingsdaad itself "born out of the Volk to serve the Volk", such taking final perfection in a new, people-centred Volkskapitalisme which expects wealth creation as is at the heart of traditional capitalist models to take a back seat to the "socioeconomic rescue of a dispossessed people, sunken spiritually and materially," through jobs creation and the constant leveraging of "productive capital" as can be manipulated out of the "REAL AmeriKKKan" By Any Means Necessary unto The Patriot Fund, which would (in theory) be a self-financing maker of "self-liquidating" loans to "deserving" small business and industry startups (itself to be further reinforced with an Exchange-Traded Fund [Patriot II] and a Retirement Savings Plan [Patriot III] as would have stakeholdings in such companies receiving Patriot Fund financing) ... the whole to be managed by a Master Trust as turns out being based offshore "for tax reasons", yet officially is being presented as a "social responsibility initiative" of the several Wall Street brokerage houses as are unwittingly tricked into so participating?
One Thing More regarding this site: The Contact Page has a new "contact me" form which is designed to load fater and sooner therein; unfortunately, such lacks any sort of CAPTCHA device, yet such shouldn't prevent you from using such to get back to moi by e-mail should you have questions or comments as need my immediate notice. (Beware: "Spam" sent through the Contact page will be reported.)
TT4N....



REMEMBER THIS:
Your comments on, and responsible sharing of, these posts are always welcome and apprecitated. And if you like these posts, please join my (howbeit sporadic) e-mail list (after replying to the confirmation e-mail beforehand) for insight and observations as may come across Your Correspondent's mind (which you can always leave at any time); to contact me, please do so through the Contact page; responses cannot be guaranteed.

And please be aware that Your Correspondent has no control over the content of outside links in these posts, which are provided solely for your information and enlightenment.
By TwitterButtons.net


Get Facebook Buttons

Why Wait for the Sunday Paper? Coupons.com - Print Free Coupons Anytime.



Ablewise.com Free Classifieds - Post your free photo Ads in 10 Countries around the world!